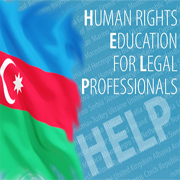 The European Programme for Human Rights Education for Legal Professionals (HELP) supports the Council of Europe member states in implementing the European Convention on Human Rights (ECHR) at the national level, in accordance with the Committee of Ministers Recommendation (2004) 4, the 2010 Interlaken Declaration, the 2012 Brighton Declaration and the 2014 Brussels declaration.
HELP is:
1. the only pan-European Network of national training institutions for judges, prosecutors and lawyers in the 47 Member States;
2. an e-learning platform on human rights;
3.a human rights training methodology for legal professionals.
Wider promotion of the HELP Programme in Azerbaijan has been started since 2015 year. On this regard, the Azerbaijani Bar Association and Justice Academy of the Azerbaijani Ministry of Justice closely collaborate with the relevant CoE institutions.
Currently, the total number of HELP certified trainer among Azerbaijani Bar Association members 9 and since now 2 online distant courses have been held.

Page of the HELP Azerbaijan